What Love Sees
CBS Movie of the Week in Campo, California
(Click on images for full-size view)
The San Diego Railroad Museum provided production assistance for a CBS Movie of the Week entitled What Love Sees. The shoot occurred on Febuary 28, 1996, and was aired on September 22, 1996. The movie stars Richard Thomas, Edward Herrmann, Annabeth Gish, Kathleen Noone and August Schellenberg.

Please check here for the official plot and poster.

The movie is based on a real family that settled in Ramona California. The wife of one of the sons (Will) works with the wife of a Museum volunteer at a local hi-tech plant. In this page Cherie Holly provides a real-life addenda to the official plot above.

The Museum provided the setting for the couple's departure from Bristol, Connecticut. The Campo Depot, steam locomotive Southern Pacific #2353 and a five-car passenger consist were utilized. Museum member Lew Wolfgang was the Museum Coordinator for the day and provides a description from the railroad's perspective.

---
The Holly Family
by Cherie Holly
* * *
Executive Producer David Rosemont, Jean (Treadway) Holly and Annabeth Gish, who played Jean
Photo by Cherie Holly

Gordon Holly, a blind California rancher, met Jean Treadway, a blind, sheltered daughter of a wealthy Connecticut family in 1941 through a mutual friend. They married in 1943, and departed the Bristol, Conn. depot of the New Haven Railroad for their rail journey to California. They preferred to see their blindness as an inconvenience rather than a handicap, and together built a life of their own in Ramona, Calif., not far from San Diego.

In addition to ranching, Gordon started a construction contracting business. He and his workers built custom homes and churches, and were involved in historical house relocation and restoration.

They raised four children, Forrest Jr., Faith, William and Alanson (Hap). Gordon passed away in 1984, and Jean has moved to Bend, OR. Jean was present for much of the filming of "What Love Sees."

---
About William (Billy) Holly
by Cherie Holly
* * *
Richard Thomas, who played Gordon Holly, flanked by Faith and Will, two of the four Holly children.
Photo by Cherie Holly

William Treadway Holly (later known as Will), served in the USAF for 4-years, then worked in his father's contracting business.

He now lives in Carlsbad, CA. with his wife Cherie, an administrative assistant at Hewlett Packard in Rancho Bernardo.

Will maintains jet aircraft for Flight International at Palomar Airport.

Will's brother, Hap, is also involved with the Radio Amateur Information Network which can be found here.

---
Steam at Campo
by Lew Wolfgang
* * *
When I joined the Museum in the summer of 1989 I made a decision not to participate in the on-going restoration of #2353. There were so many other interesting things to become involved with that I didn't think I had the time to devote myself to a multi-year project. I did follow the progress of the Steam Team and have always been in awe at their tireless dedication to a goal that must have seemed impossible at times.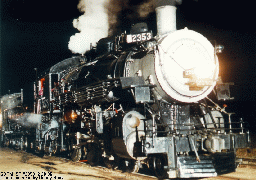 Today I was witness to an event that coalesced their countless hours of labor into one shining moment that I will always remember. Here's the story.
The Museum made its Campo, California Depot available to a movie production company for the shooting of an upcoming CBS Movie of the Week entitled What Love Sees.
The production designer, David Ensley, initially asked if the Museum had a diesel locomotive that would fit into the 1941 time frame. I said that while we have a Fairbanks Morse H20-44 from 1948, perhaps we could interest him in a live-steam locomotive. #2353 had just made its first move of about six feet, and I felt confident that Larry Williams, Richard Dick and the Steam Team would jump at the chance to show off their "iron". The date was February 9, 1996
David was interested and the production company subsequently contracted with the Museum to provide a steam powered passenger train for their shoot on Febuary 28th. A platform was built from the Depot to the main and the facing Depot wall was painted to resemble a Depot from Bristol, Connecticut. Props were brought in and a host of movie people numbering about 100 moved into the Depot parking lot. A consist of four ex-Lackawanna "MU" cars and a baggage car lead by #2353 was spotted in front of the Depot with the locomotive on the uphill end. The grade in Campo is about 1.4 percent.

The Depot scene was to be shot at night, and various large stage lights were set up for illumination. One light, a 12,000 watt monster, was placed in front and to the side of #2353, pointing back toward the Depot.
We were all a little apprehensive about #2353's being able to pull the five-car consist uphill from a cold dead stop with the cylinder cocks open, so we decided to "rehearse" before the cameras were rolling. It was twilight, mostly dark, with a residual pink cast to the sky. We could all see our breath, it was about 40 degrees F.
After checking that everyone was clear, I gave Larry the proceed signal. There were probably 60 people clustered around the platform as #2353 proceeded to give us the most remarkable display of back-lit steam and smoke I've ever seen. Steam billowed to the side through the open cylinder cocks while the blower lifted a remarkable cloud of mostly steam straight into the chill air. All of this backlit by the 12,000 watt light rendered us speechless. #2353 then proceeded to smartly haul that 5-car consist up the hill and out of the Depot with a most assertive chug-chug.
Alas, the moment snapped when Museum member Bob Nickles said in a loud voice, "Gee, that almost looks like a real train!"
Well said, Bob. And I will remember you forever too.....
Photos by Al Brill unless othewise marked
---
Back to the Railroad Stories Page


Return to the San Diego Railroad Museum
This page last updated 5/28/01