Wildland Fire Strikes Campo
Minor Damage to Track
by Lew Wolfgang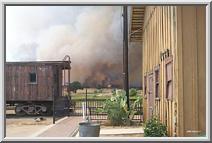 Campo Depot looking west

A wildland fire consuming an estimated 1200 acres of brush ragged in and around Campo on Saturday, August 21, 1999. While homes were threatened, the concentrated efforts of the California Division of Forestry and other area fire departments prevented significant damage. Seven helicopters and seven fixed-wing aircraft were utilized to help fight the conflagration in a difficult environment of rough terrain and shifting winds. The fire appears to have started about one half mile to the south-west of Campo.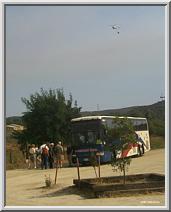 Tecate passengers return to Campo via bus

The fire prevented the rail return of 160 Tecate passengers. Alternative bus transportation was arranged and coordinated by Rich Borstadt, Ann McVeigh and Jim Friedlan. All passengers were returned to their automobiles in the Museum parking lot without incident.

A Museum tank car containing 8,000 gallons of water was utilized to help replenish several CDF fire rigs. The water was stored in the car for just such an occasion.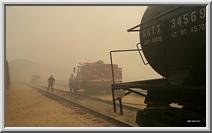 Museum tank car transferring
water to fire rig

A motorcar "Fire Speeder" was also pressed into service to extinguish burning crossties and brush in front of the Campo Depot. Museum volunteers helped CDF to the degree possible and were also involved moving the rail equipment out of danger.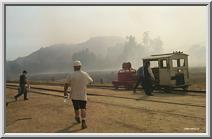 Fire speeder prepares to depart to the west


As the afternoon wore on, the St. Vincent de Paul Center donated hundreds of meals to the firefighters and Museum volunteers.

Museum officials were surprised at how easily the green meadow directly to the west of the depot burned. It had been assumed for many years that the meadow would serve as a fire break.

The cause of the fire is unknown at this time.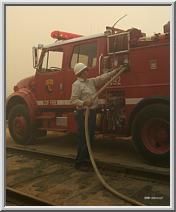 Museum volunteer tends
to water transfer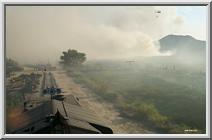 View to the west from the
Museum Yard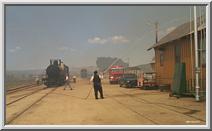 Brakeman Greg Perin tends to
the depot roof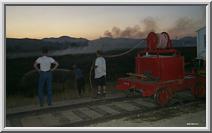 The sun sets over fire and volunteers
Photos by Rich Borstadt
---

Return to the San Diego Railroad Museum
This page last updated 8/23/99