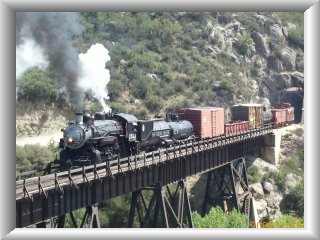 SOUTHERN PACIFIC COMPANY #2353
Steam Locomotive & Tender
This article was written by Bill Schneider in February of 1993.
SP #2353 returned to service after restoration on March 19, 1996
This Baldwin Ten-Wheeler "Class Engine" with an ALCO boiler spent many years locally on the SD&A/SD&AE, and on SP's Imperial valley lines.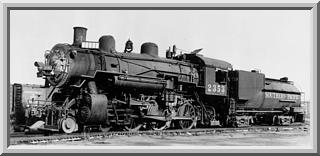 Built by Baldwin Locomotive Works, Philadelphia, Pa, October 1912.
Because this Class T-31 (Class T-63 22/28 162-S for its driver/cylinder size and weight on drivers) was the first 4-6-0 in its series of ten, it's the "Class Engine". Builder's #38221, it weighs 208,000 lbs. (104 tons) loaded, 182,880 lbs. (91.44 tons) "light", and has 162,000 lbs. on its 63" drivers. It's 40' 11 15/16" long, 10' 0" wide, and 15' 2 3/4" high; has 30" pilot wheels; 22" x 28" cylinders; 210-lb. boiler pressure (originally 200); Walschaerts valve gear; and 38,400- lb. tractive effort (originally 36,570). It originally had a cylindrical tender and later a rectangular one. Its present cylindrical Vanderbilt 120-C-1 Class tender was built about 1921 and replaced a 70-C-3 Class one. SP #8540, it weighs 89,900 lbs. (44.95 tons), is 41' 5 3/4" long, 9' 10" wide, 12' 0 3/8" high, and carries 12,000 gallons of water and 4,000 gallons of fuel oil.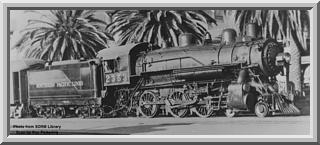 Completed in August 1912, SP #2353 was delivered to the SP October 18, and used in 1913 on Fresno-Los Angeles San Joaquin Express trains. On January 15, 1917 it was outshopped with a "new" boiler made by American Locomotive Co. at its Brooks Works in Dunkirk, Ny., in June 1913, originally installed in SP #2363. The reason for the boiler change is unknown. SP #2353 was serviced at Tucson, Az. in 1921 and Tracy, Ca. in 1927. It was leased December 28, 1927 to the SD&A, which became the SP-owned SD&AE in 1933. Retaining SP Lines lettering, it was used in passenger service on the San Diego-Campo-El Centro mainline, pulling trains through to Yuma via Mexicali and SP's Ferrocarril Inter-California. It also served on racetrack specials from San Diego to Agua Caliente in Tijuana, Returned to the SP November 14, 1939 at Calexico, Ca., the Ten-wheeler went to the San Francisco area for freight use. It was serviced at Tracy in 1940 and the Bayshore yards in Brisbane, Ca. in 1942, 46, 49, and 53, where it served in the 1950's as a switcher. It also worked San Mateo-Watsonville gravel trains and switched cars at a San Mateo lumber mill. Sent south again, its final 1956 use was as helper on Coyote Wells-Hipass westbound SD&AE freights.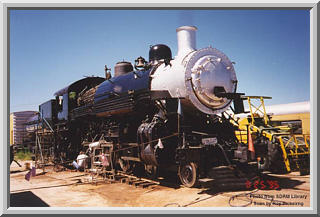 SP #2353 was retired January 18, 1957. On February 25th it moved itself on snap-track by air pumped into its cylinders by a compressor into the California Mid-Winter Fairgrounds at Imperial, Ca.. Called "The Grand Old Lady", on March 7th it was donated with coach #2693 to "..the people of Imperial County". For 29 years the exhibit was seen by thousands during annual fairs.
Imperial's dry air kept SP #2353 well preserved. After years of negotiation, on November 13, 1984 the fair's operator, the 45th District Agricultural Association, voted to donate the exhibit to the PSRMA. Formal transfer came a year later, on November 25, 1985.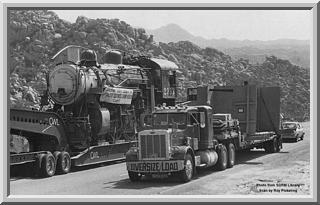 As fairground changes had made snap-tracking the equipment out impossible, the tender and coach were moved by truck to Campo in July 1986. The locomotive was taken 75 miles from Imperial to Campo via Calexico, Devil's Canyon, and Boulevard on August 8-11, 1986, from below sea level over a 4,160-foot divide, on a 16-axle, 98-wheel, 180-foot, articulated road transporter with two 450-hp prime movers. Thanks to major donations of services and equipment by Enniss Enterprises (cranes) and Owl Truck Company, it cost the PSRMA only $17,520! The tender was repaired and repainted in 1987. The engine was disassembled and is undergoing restoration with completion expected in November 1995. SP #2353 will then run again over the same SD&A tracks on which it pulled passenger "varnish" in past decades!
WPS/SDRM/2/93

---
Back to the Steam Roster


Return to the San Diego Railroad Museum
This page last updated 9/9/2009